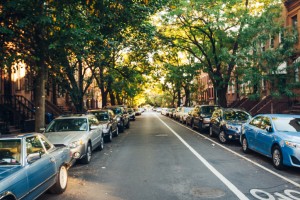 Smart Growth America is cheering for the Federal Highway Administration, which recently finalized new street design guidelines that do away with 11 criteria for roads with speed limits of less than 50 miles per hour. That move, says the advocacy group, means it'll be easier for communities to design safer, more complete streets that work for cars, pedestrians, and bikers.
The group says FHWA's new guidelines mean cities will no longer have to request exceptions for things such as lining downtown streets with trees, reduce car lane widths to accommodate bike lanes, or add curves to road designs to slow traffic.
Read the new regulations in the Federal Register and see Smart Growth America's comments here.