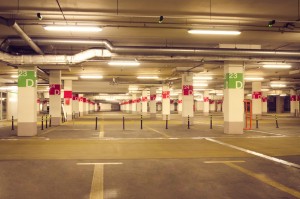 By Mike Uldrich
Finding a parking spot in an office building or mall is part of daily life and we do it without much thought beyond hoping to remember where we parked. However, the way drivers experience parking structures—the ingress/egress, ramping system, parking technology to help locate open spaces, and location of walkways from parking to the main building—in office buildings and retail is very different and the need for efficiency is different as well. Overall, parking flow has a substantial effect on the owner's bottom line. Inevitably, the success of a facility is often significantly impacted by how well its parking structure was built.
A parking facility for office employees needs to be able to load and unload passenger vehicles quickly during peak morning arrival times as well as in the evening or at the end of the day. Office parking structures are typically designed with a vertical ramping system that allows employees who all arrive and leave at roughly the same time to travel from floor to floor easily. Some parking structures are designed with double threaded helix type ramping in lieu of a single threaded helix. A double threaded helix reduces the travel time required for vehicles to travel from floor to floor. There are lots of what we call "repeat offenders," who are office employees who park in the same spot every day. They don't spend much time looking for a space but rather need a fast route to travel to and from "their" parking spot.
Parking structures for retail are mainly designed for the constant flow of people who come and go throughout the day and evening. Shoppers spend more time in retail garages (as opposed to office garages) searching for the best parking spots, which usually means proximity to their favorite stores. Property owners will often implement car-counting systems that enable visitors to determine how many spots are available on each floor as they enter the structure. Additionally, retail property owners utilize parking assist systems, which may consist of red or green lights to mark whether a spot is open or occupied. These systems are helping achieve efficient traffic flow while streamlining the parking process.
By focusing on the function a parking structure will support such as retail or office building use, the most efficient approach for the construction process can be identified, yielding substantial cost, scheduling, and quality benefits for owners.
Mike Uldrich is a project director with McCarthy Building Companies, Inc.