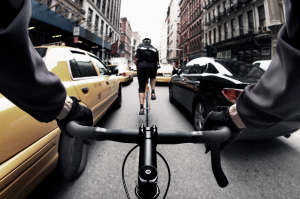 Love your bike? Do you love your bike as much as New Yorkers love their bikes? Because there, new apartment and condo buildings are not only incorporating bike storage rooms, but they're tricked out with repair tables, tire pumps, their own entrances or elevators, cushioned hooks for helmets, and sometimes, ginormous windows that rival the views of the apartments themselves and full-time bike valets on call.
So what gives? A recent survey found that up to 20 percent of city residents bike several times a month. A recent zoning amendment mandates one bike space for every two apartments in buildings with 10 units or more. And the bike rooms and amenities are crazy-popular, with long waitlists in some parts of town.
Read all about the new bike rooms taking over New York here. And now we want to know: What's in your garage?