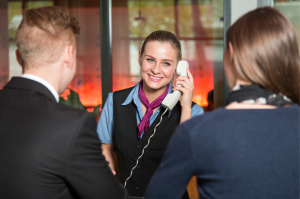 By Kim Fernandez
Grab an item of clothing out of my closet and there's a better-than-average chance its label will read L.L. Bean. T-shirts to dresses to shoes (even my summer flip-flops), the legendary green and white label is a staple of my wardrobe. It's not that Bean's more stylish than anyone else or easier on my wallet than other brands that keeps me coming back. That honor goes to the company's famous lifetime guarantee: If it came from them, they'll take it back anytime, for any reason.
Here's the funny thing: Their stuff is so well made that I've rarely made a return (ask my 20-year-old barn jacket). They stand behind it like they do because it's made to last forever, so it's a win-win. I pay a little more than I might somewhere else, but I'll never be disappointed.
Entrepreneur ran a story this week about what differentiates companies in the eyes of consumers—airline customers, in this case—and found it comes down to three things: customer service, attitude, and standing behind goods and services. Be nice, be sincere (lose the script and just talk to me), and be sure enough about what you're doing that you'll back it up if or when it goes a little haywire. Makes sense and breeds loyalty—what's not to like?
Kim Fernandez is editor of The Parking Professional.