Our next Earth Day post comes from Propark America about one of the greenest parking facilities in the country: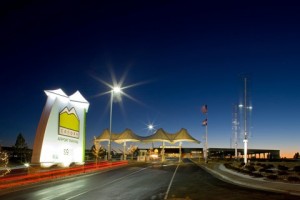 From the beginning, Canopy Airport Parking at Denver International Airport was meant to be the most sustainable parking lot on the planet, and it has exceeded that expectation.
Canopy Airport Parking is Certified LEED Gold by the U.S. Green Building Council, and is a certified Green Garage Pioneer by the Green Parking Council. The 40-acre lot is made from a number of sustainable or recycled materials. The pavement was made from recycled roof shingles, while the building steel is made from recycled cars.
Canopy has almost a net-zero carbon footprint, and is at least 80 percent more energy efficient than comparable facilities around the world. The facility's LED lights take up only 20 percent of a normal light fixture, yet the facility runs on almost no electricity since it is primarily supported by an on-site solar field. Canopy also offers eight free on-site Juice Bar electric vehicle charging stations.
Aside from pioneering parking sustainability and raising the bar for parking facilities throughout the world, Canopy's business model also succeeded. Since opening in 2010, occupancy has skyrocketed with revenues well above projected levels.
Continue the discussion and submit your own stories and blogs here.