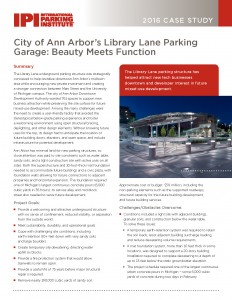 The Library Lane underground parking structure was strategically conceived to help  revitalize downtown Ann Arbor's midtown area while encouraging new private investment and creating a stronger connection between Main Street and the University of Michigan campus. The city of Ann Arbor Downtown Development Authority wanted 761 spaces to support new business attraction while preserving the site surface for future mixed-use development. Among the many challenges were the need to create a user-friendly facility that avoided the stereotypical below-grade parking experience and foster a welcoming  environment using open structural bracing, daylighting, and other design elements. Without knowing future uses for the top, its design had to anticipate the location of future building doors, elevators, and open space, and include infrastructure for potential development.
Ann Arbor has minimal land for new parking structures, so close attention was paid to site constraints such as water table, sandy soils, and a tight construction site with active uses on all sides. Both the superstructure and 10-foot-thick mat foundation needed to accommodate future buildings and a civic plaza, with foundation walls allowing for future connections to adjacent properties and horizontal expansion. The foundation required
one of Michigan's largest continuous concrete pours (6,000 cubic yards in 36 hours). Its service alley and mid-block street also needed to serve future development.
Read the entire case study here.
Do you have a great story to tell? To submit your own case study for publication on the website, please contact sullivan@parking.org.