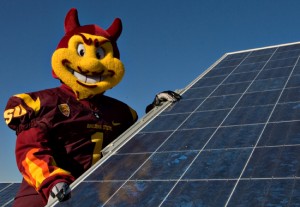 Today's post comes from Arizona State University, where they have some serious solar power!
Three major installations help power the university, significantly reducing fossil fuel consumption and emissions. The Wells Fargo Solar installation generates a total wattage of more than 24.1 MWdc (megawatts) at 89 locations across all four campuses and the ASU Research Park. These installations in parking lots and on garage rooftops also provide valuable shade to more than 5,900 parking spaces and 828 stadium seats – and shade is certainly a benefit in the heat of the southwest. During 2015 at the Carson Student Athletic Center, the solar power plants located on ASU's Tempe Campus facilities generated approximately 26,568 MWh – equivalent to 14 percent of the electricity used at Tempe Campus facilities. And at ASU's West Campus, the installation generated approximately 8,595 MWh in 2015 – this amount of energy is equivalent to 71 percent of the total amount of electricity used at ASU's West Campus facilities.
We hope that you are enjoying your Earth Week blog post series, submit your own stories here.