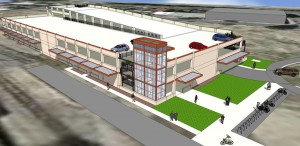 Today's post comes from Watry Design and focuses on the role of structured parking to support advanced mobility options in the "Inland Empire" of Southern California:
After opening on March 5, already more than 70 percent of Gold Line extension riders are new to Metro. In addition, 66 percent of those same riders said they no longer drive to work according to a Metro survey of passengers who boarded the train at stations on the 11.5-mile light-rail addition. Five new parking facilities in Azusa, Arcadia, Monrovia, Irwindale, and Durate support the new extension and alternative transportation options for passengers.  (Rendering courtesy Watry Design.)
Stay tuned for more success stories and stats in our Earth Week blog post series, or submit your own here.