by Rachel Yoka, CAPP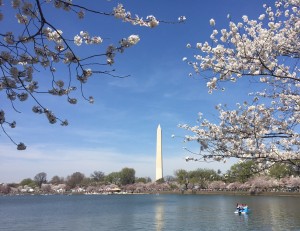 Spring break vacation days with the kids can be a challenge right?  So when we were looking for something fun to do as a family over the break, and it just happened to be the peak for the Cherry Blossom Festival in Washington, DC, we toyed with the idea of driving down to visit the iconic (and very fickle) trees.
I thought about the advantages — I went to Georgetown, and the cherry trees were always a highlight of my time and years in DC; when I lived in Japan, the festivals under the sakura (the Japanese variety of cherry tree) were amazing; this is a very cool experience I could share with my kids.  Check, check, check.  Then there were the disadvantages — a minimum of six hours in the car with the kids in one day (surmountable); the fact that I would likely have to piggyback my son back to the car (good exercise for me); and difficult parking for two cars, since we had too many passengers for one.
That last point was the kicker.  Even as a parking professional, when parking is a challenge, it can be a major deterrent to enjoying a trip, a destination, or even a good meal.   Then we found out (because we are connected like that) – we could not only reserve parking in advance online, but we could pay for it with a mobile app, and guarantee that both cars could reserve in the same garage.  Well then, now we have a plan!
Often the ability to plan it out, and have that little piece of mind, is that last bit of leverage to make a treasured memory with family and friends under the blossoms at the Tidal Basin.  (In case you were wondering, we did walk about six miles that day, and the piggyback ride was required, but the parking was a breeze!)
Rachel serves as the Vice President of Program Development for IPI.