By Helen Sullivan, APR, Fellow PRSA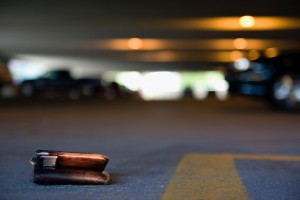 I lost my wallet in a parking garage. Of course I didn't know I lost my wallet in a parking garage at first. First I was just faced with that awful realization that this situation was going to be a royal pain in the you-know-what. Ugh.
Retracing my steps included returning to the parking garage at the IPI office in Alexandria. (I discovered something while searching: What a clean, well-lit, freshly painted garage. Really impressive. But I digress!) IPI's wonderful staff helped in the search and Executive Assistant Jean Miller went beyond the call of duty by scouting around the parking garage, too, and then she checked in with Parking Garage Manager Rodney Hall (good thinking!) who made it a point to look on his rounds. Lo and behold, Rodney found the wallet and even personally returned it to IPI's office. There's my happy ending, including a fun selfie with my newfound hero!
Jeff Rossen, investigative reporter for NBC's "Today Show," recently did an investigative piece wherein he planted iPads right out in the open in hotel rooms and rental cars (under the front seat), turned on the Find My iPad app, so he could track the devices, and then called the companies to say he'd lost the items.  Of the 10 items he "lost," how many do you think he retrieved?
Watch the report for yourself  to see how Marriott, Enterprise, and other companies did. How would your operation fare?
Helen Sullivan, APR, Fellow PRSA, is IPI's communications counsel.