By Kathleen Laney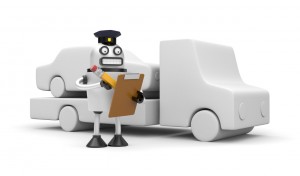 Our lives today are dramatically different than 10 or 20 years ago, especially when it comes to work. Advances in technology and artificial intelligence, the spread of digital interconnectivity, and increases in automation and robotic dexterity have fundamentally changed work for both the employer and employee. These changes are just the beginning of a dramatic transformation as more and more work can be accomplished by robots and computers. So will the Siris and Watsons of the world spell catastrophe for humans?
People have been both hopeful and worried about machines taking over their jobs since the beginning of the first Industrial Revolution. But as happens with every great technological revolution, the future won't sink to the level of the dystopia of George Orwell's 1984 or the hit series, The Hunger Games. Nor will it be a utopian paradise—our future and the future of work lies somewhere in between.
While this is cold comfort for anyone who loses their job to automation, we as workers and employers can take steps to ensure our workforce of the future is not only thriving but also keeping pace with the skills required for continued technological innovation. But how?
Join me April 13 to discuss Parking as a Profession: Preparing for the Future. Learn about specific and actionable strategies that both parking employers and professionals can embrace to adapt to the future of work. Register for this IPI webinar here.
Kathleen Laney is president and founder of Laney Solutions.