By Bonnie Watts, CEM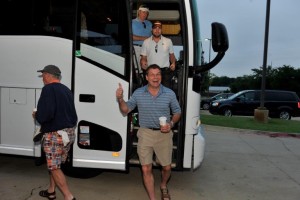 In today's demanding world, it's important to stay competitive and on top of the "next big thing." That usually means working hard, often behind a screen. But there's also something to be said about doing things the old-fashioned way — building relationships face-to-face and sharing information colleague-to-colleague.
The outside-the-box networking opportunities for vendors and attendees at the 2016 IPI Conference & Expo, May 17-20, Nashville, Tenn., are anything but your standard cocktail reception. Optional social activities include a golf tournament, 5k Fun Run/Walk, Nashville history tours, and adventure outings (zip line, anyone?).
Take part in the complimentary networking portion of the Opening Welcome Event or a specialized reception like the State & Regional Association and Young Professionals in Parking mixers. Whatever your interest, IPI offers multiple ways to connect with the people and resources you won't find anywhere else.
You'll want to return to the annual IPI Conference & Expo as much for the show as to see the friends you make each year. See you in Nashville, friend!
Bonnie Watts, CEM, is IPI's vice president of sales.