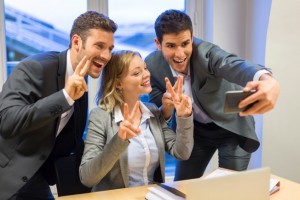 By Bill Smith, APR
I'm here to preach the gospel of fun to you today! Marketing doesn't have to be boring—in fact, it should never be boring. Nor should it be staid or timid. One of the most important things you can do in your marketing is give prospective customers and partners a sense of who you are. People want to work with people they like, so it's important to show the world your organization's personality. And one of the best ways to do this is to have fun in your marketing.
Many organizations shy away from taking a lighthearted approach in their marketing, and this is understandable. You always want to present a professional face to the world. But it's important to remember that having fun is not synonymous with being unprofessional.
I'm not suggesting that all of your marketing should be lighthearted. Think of your own personality. You aren't always lighthearted are you? It's the complexity of your personality that makes you interesting. The same goes for your organization.
One of the golden rules of having fun (in the marketing sense) is to not take yourself too seriously. It's OK to make fun of yourself and laugh when others do. A perfect example is playing out right now: Britain's Natural Environmental Research Council is getting ready to launch a new $287 million polar research ship and invited the public to weigh in on a new name via the Internet. No doubt, no one expected the leading choice to be "Boaty McBoatface." The reaction has been priceless: much wringing of hands and complaining that the NERC was foolish to seek name suggestions from the public. The New York Times even weighed in with a derisive article.
But is this the disaster that many pundits are making it out to be? I'd say no. Tens of millions of people who had never heard of the NERC before are now aware of the agency and its important mission. And going forward, I think naming the vessel Boaty McBoatface will provide equally useful benefits. Most obviously, it will help make the agency and its work more accessible to the general public, not just today but for future generations. Do you think young budding scientists will be more interested in a boat named the HMS Shackleton or Boaty McBoatface?
Chances are your organization can also benefit from taking itself less seriously. When it comes to marketing, it may be time to lighten up.
Bill Smith, APR, is principal of Smith-Phillips Strategic Communications.