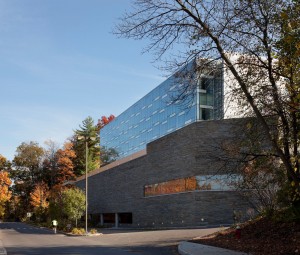 Did you hear?  Green Garage Certification and our industry have taken a great leap forward.   Here comes the alphabet soup—glossary provided!
The Green Building Certification Institute (GBCI), the certification arm of the United States Green Building Council (USGBC), acquired the program as of January 1 of this year. The USGBC's Leadership in Energy and Environmental Design (LEED) standards have transformed the real estate and building industry, setting new sustainability benchmarks and encouraging the design and construction of better buildings. The Green Parking Council (GPC) led the parking industry on a parallel path, designing a new standard to drive change in the design and renovation of parking structures (which were previously excluded under LEED).  In 2015 GPC and IPI honored the inaugural class of Certified Green Garages, including Cornell University's Forest Home Garage, pictured in this post.
With the GBCI's acquisition of the Certified Green Garage program, we have a tremendous opportunity to take this program to new markets, and new heights. IPI recognized the tremendous value and impact of the program and we are thrilled to continue to support the program as it grows.  (Stay tuned for more news about an exciting rebrand of the  program as ParkSmart. More to follow on that…)
Congratulations to the dedicated professionals who worked on this groundbreaking program – check out these articles from Green Building Law Update and the GBCI press release.