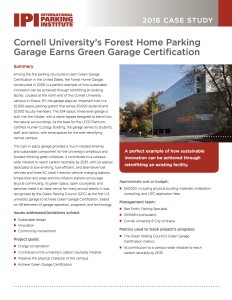 Among the first parking structures to earn Green Garage Certification in the United States, the Forest Home Garage, constructed in 2009, is a perfect example of how sustainable innovation can be achieved through retrofitting an existing facility. Located at the north end of the Cornell University campus in Ithaca, NY, the garage plays an important role in a 10,000-space parking system that serves 30,000 students and 10,000 faculty members. The 254-space, three-level garage is built into the hillside, with a stone façade designed to blend into the natural surroundings. As the base for the LEED Platinum-certified Human Ecology Building, the garage serves its students, staff, and visitors, with extra spaces for the ever-densifying central campus.
Read the entire case study here.
Do you have a great story to tell? To submit your own case study for publication on the website, please contact sullivan@parking.org.