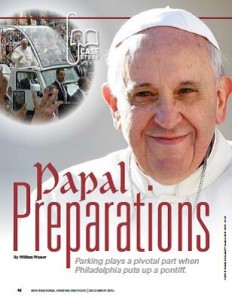 By William Wasser
In late September, Philadelphia was honored to host Pope Francis and hundreds of thousands of pilgrims. From near and far (sometimes very far), they flocked to Philadelphia's Benjamin Franklin Parkway to catch a glimpse of the pontiff as he celebrated Mass in front of the world-renowned Philadelphia Art Museum.
Considered one of the most massive security undertakings in U.S. history, Pope Francis' visit to Philadelphia required the cooperation of multiple government agencies to ensure the pontiff's safety while causing the least amount of disruption to Philadelphia residents. The Philadelphia Parking Authority (PPA) played an instrumental role in ensuring a smooth and safe papal visit.
Richard Dickson, PPA deputy executive director, spearheaded the authority's efforts leading up to and during the papal visit. "There was incredible pride in the fact that our city was chosen for an event this large and of this complexity. We realized there was going to be a balancing act between security precautions and making the events accessible to those wishing to attend," he says.

Getting Ready
There was one glaring question in the back of Philadelphia residents' minds in the weeks leading up to the visit: "Where the heck am I going to park while the Pope's in town?"
With this question in mind, and because parking was prohibited within the large event security zone, the PPA took multiple steps to provide alternative parking for residents to reduce the likelihood of vehicles being towed.
"When we got to the point of knowing where the security restrictions would be placed, I felt our responsibility was to mitigate the impact of those restrictions, particularly on the people who live within the security zone," Dickson says.
"When our security zone analysis determined 6,500 parking spaces needed to be cleared, we also realized people had to live their lives during this massive event with as little disruption as possible," he continues. "So we devised a way to accommodate residents while enforcing necessary security restrictions."
Making Accommodations
First and foremost, residents living within prohibited parking zones were permitted to park in PPA-operated garages at a discounted flat rate of $20. That fee was waived if a resident had a valid neighborhood residential parking permit. The discounted parking allowed residents to park in the PPA's garages for a four-day period; vehicular traffic within the security zone was prohibited from 10 p.m., Thursday, Sept. 25, until 12 p.m., on Monday, Sept. 28.
After purchasing a parking space in the PPA's garages, each participating resident was issued a towing exemption placard. Vehicles displaying these placards were exempt from towing until 10 p.m., Sept. 25. This allowed sufficient time for residents to relocate their vehicles to the PPA's garages for the following four days. Residents with residential parking permits who lived in the affected security area were also given the option to park in other residential parking districts.

Getting the Word Out
Aside from providing sufficient parking options for residents, the PPA was also tasked with towing illegally parked vehicles on all streets within the security zone by 10 p.m. Sept. 25. That meant communication was a vital part of the plan. Dickson explains, "One of the biggest and most important issues was communicating with residents and getting accurate information out as quickly as possible so residents could make necessary adjustments with the least amount of disruption as possible."
With parking options available and roads needing to be clear of parked vehicles within the security zone, the PPA began disseminating the information to Philadelphia residents in a timely manner—and the authority used every tool available.
"We utilized every public communication tool at our disposal, both old and new. We issued press releases, did press interviews, and left fliers on cars. We had significant outreach through our social media channels, Twitter and Facebook," says Dickson.
Leading up to the papal visit, it became clear the PPA was a vital information hub for Philadelphia residents and visitors. This meant the authority needed to provide real-time information to the public, which is where social media outreach played a paramount role.
Jessica Meeder, account manager for Chatterblast Media LLC, the PPA's contracted digital marketing firm, explains, "The expectation on social media is that people can look to our page for real-time updates. Therefore, we built a solid plan addressing the 'how' and 'what' information people would need during the papal visit. We broke a ton of information into multiple blogs so it was digestible. We also interacted and shared messages from other important city organizations. The key to communication on social media was keeping it as straightforward and simple as possible."

The Results
As the clock wound down to the papal visit, and real-time information continued to flow, the communication strategy employed by the PPA had clearly paid off.
A relieved Dickson explains, "As a result of our communications strategy, we had a 90 percent compliance rate for areas where parking prohibitions were in effect. That's almost unheard of. In the past when we needed to clear streets for large events, we had 75 percent compliance at best."
The PPA had originally planned to tow some 1,500 vehicles leading up to the Pope's visit. The end tow number was slightly more than 600. This high compliance rate means Philadelphia residents got the message early to move their vehicles and paid attention to the various parking options available to them.
With all roads cleared and security zone restrictions in full force, the PPA's heavy lifting for the huge event was complete and contributed to a seamless papal visit.

Building on Experience
The PPA's advanced work and preparations for the papal visit will long be remembered by PPA staff. "I have never been part of something this massive before," Dickson says. "We've had to clear streets for parades and massive snow storms and other major events, but we've never been part of something of this magnitude with so many moving parts that needed to work together."
Though preparing for the papal visit was a massive undertaking, Philadelphia is no stranger to large-scale events, and there are certainly more on the horizon. The City of Brotherly Love and Sisterly Affection has been tapped to host the 2016 Democratic National Convention. We at the PPA fully intend to build upon what was learned during the papal visit. Given the complexity of the papal visit, the Democratic National Convention should be a cakewalk.

William Wasser is digital outreach coordinator with the Philadelphia Parking Authority. He can be reached at wwasser@philapark.org.
TPP-2015-12-Papal Preparations