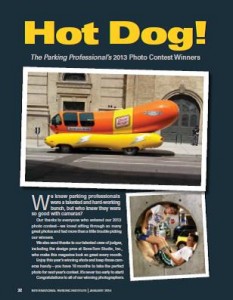 We knew parking professionals were a talented and hard-working bunch, but who knew they were so good with cameras?
Our thanks to everyone who entered our 2013 photo contest—we loved sifting through so many great photos and had more than a little trouble picking our winners.
We also send thanks to our talented crew of judges, including the design pros at BonoTom Studio, Inc., who make this magazine look so great every month.
Enjoy this year's winning shots and keep those cameras handy—you have 10 months to take the perfect photo for next year's contest. It's never too early to start!
Congratulations to all of our winning photographers.
Winners by Category
Overall Winner
Weiner Mobile
by Dave Fields, parking operations manager, SMG
Dave snapped this photo of the iconic Oscar Meyer Weiner Mobile parked outside the Colorado Convention Center last August.
People in Parking
Brothers Hanging Around
by Jeff Pinyot, president, ECO Parking Lights Jeff took this photo of his sons in a garage in Cincinnati, Ohio.
Structure/Lot
Parking in 3D
by Nick Thompson, parking and transportation administrator, City of Austin.
Photo of a parking sign that took on a three-dimensional character.
Beautiful
Park n Go Sign
by Dareen Thielbar, parking enforcement officer, City of Vancouver, Wash.
Winners by Category
Funny
Parkopedia Sign
by Christina Onesirosan Martinez, marketing director, Parkopedia
The world's most confusing parking sign.
Most Offbeat or Unusual
Meter Graveyard
by Larry Cohen, CAPP, executive director, Lancaster Parking Authority
Taken in a meter storage room in Pennsylvania.
Nature
Park n Go Sign on Green Wall
by Dareen Thielbar, parking enforcement officer, City of Vancouver, Wash.