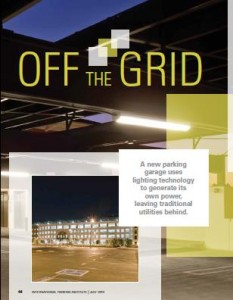 By Bill Schoenfisch
When Long Beach City College (LBCC) first opened in 1927 with an enrollment of 503 students, its current enrollment of more than 27,000 probably seemed like an impossible dream. The college later split into three separate campuses by function, and renamed its original Long Beach location the Liberal Arts Campus. Steady growth happened all along the way, but until recently, there was one glaring holdover from decades ago: an old asphalt parking lot with a narrow strip of grass that still served as the campus's main parking facility.
LBCC leaders sought to build a garage to minimize parking on nearby residential streets (a common problem among city colleges) by students. Creating additional on-campus parking, close to classroom buildings was the best way to do that.
When a multi-million-dollar state grant was awarded to the college for facilities improvements as a small part of an overall bond fund approved by voters, a group of facility planners, designers, system suppliers, and contractors was put together from Southern California to create a long-term solution to LBCC's student parking problem. Interestingly, the solution would also directly benefit the lower half of the state's economy, its businesses, and employment numbers.
The result is a new parking garage that stands as a veritable tour de force of architectural design aesthetics, function, energy savings, lasting durability, and low maintenance. It is a contemporary structure that features five full floors of parking—space is maximized and none is wasted. There is one difference between fifth-floor parking and spaces on the lower four floors, however. The roof is covered with advanced technology solar panels that yield higher-than-average conversion ratios to electric power. These solar panels also uniquely serve as the fifth floor's roof.
The Garage
The new LBCC garage encompasses 296,000 square feet. It is constructed of steel beams covered with cast-in-place, long-span post-tension concrete, for long-term durability with low maintenance. The side facing the southwest corner of Carson Street and Clark Avenue in Long Beach has been termed "California modern" in its overall style and taste. It fits in with other neighborhood structures of all kinds at the same time it stands out in its uniqueness, and is professionally landscaped with creative combinations of younger and more mature native trees, shrubs, native soil, and functional, decorative native stonework.
The new five-story parking garage accommodates 900 cars. It has multiple pedestrian elevators and emergency phones on each level with fire-protection systems throughout; all of these are solar powered as are garage lighting and illuminated electronic display signage showing space availability. Excess power generated by the garage solar array is used to benefit adjacent campus buildings, lowering their carbon footprints and utility costs by about 9 percent while saving 18.4 million pounds of carbon dioxide (CO2) emissions every year.
The low-energy, long-life, low-maintenance interior garage lighting is powered by Heterojunction Intrinsic Thin-layer (HIT) solar panels from Panasonic. Unique solar cells combine two key technologies, sandwiching high-efficiency monocrystalline silicon between ultra-thin layers of amorphous silicon, yielding superior conversion efficiency with excellent temperature characteristics.
HIT Power® panels generate more energy than typical solar panels, which can be especially useful in limited amounts of space.
Luminaires employed at the Long Beach City College parking garage contain two low-energy, high performance, solar-powered ultra-long-life 28-watt linear fluorescent T8 Series lamps per parking garage luminaire. They typically replace outdated single-lamp metal halide or high-pressure sodium luminaires, which easily consume 175 watts or much more per fixture and have shorter practical operating lives with frequent maintenance. RSCP luminaires emit 83 percent lighting efficiency with low or no glare, from a choice of clear or internally ribbed translucent, radial-shaped damage-resistant lenses.
The garage's fixture design discourages accumulation of airborne debris, insects, or bird nests. Lenses show no distracting lamp or socket images when viewed from below by motorists as they seek parking spaces or exit the garage. Very high white-light efficiency makes it easier for motorists seeking available parking spaces to identify spaces as they proceed along a given aisle, before passing ones they may want.
Each light fixture is four feet long and smooth surfaced. Lamping is rated at 50,000 hours of operating life, with solid-state electronic ballasts providing 90 percent maintained lumens at 90 percent of that long lifespan. High-color-rendition white light emitted resembles natural daylight, which makes it easier for parking garage motorists and campus security patrols to accurately discern people walking inside the garage, and vehicles parked or in motion.
The LBCC garage solar panel system is the second-largest in the city. It generates a substantial 59,000 kW hours per month and 708,000 kWh annually. To raise awareness of the benefits of the system, the college has installed an information kiosk on the adjacent campus parkway that shows energy levels being produced by the garage-top solar panels. In an unusual twist to a parking garage, students also benefit as the electrical technology department uses the data in the classroom. Teachers and students can access the garage's energy data electronically for use in classwork or homework.
There's a great convenience feature to the garage, too. Solar-powered parking space availability electronic sign monitors on each level of the garage alert students to changing numbers of open spaces, day or night.
Savings
The school saves approximately $100,000 annually on its electricity bill from Southern California Edison, and earns a utility rebate of $10,000 every month for a five-year period—that's $600,000 total. Cost savings that come from decreasing power grid demand by those same amounts will grow as utility rates climb higher.
The solar panel system, which was built and installed by skilled International Brotherhood of Electric Workers (IBEW) electricians, was completed on-time and on-budget. Over course of the project, not a single workers' compensation or other insurance claim was filed. This yielded awards for all involved from the Statewide Educational Wrap-up Program, a joint power authority that provides insurance to schools and community college districts.
Besides being green, the solar-powered parking structure is being used as an educational tool, giving students pursuing degrees and certificates in sustainable fields hands-on experience right in their own backyard.
The combination of low-watt, long life, high-efficiency parking garage light fixtures that are solar powered, along with electronic signage, passenger elevators, and other electric equipment, saves the school 76.6 percent more energy than required by Title 24. This earned Long Beach City College a second (one-time) rebate from Southern California Edison of more than $25,000.

Bill Schoenfisch is principal of Schoenfisch Inc. He can be reached at primages@aol.com.